2017 Annual Meeting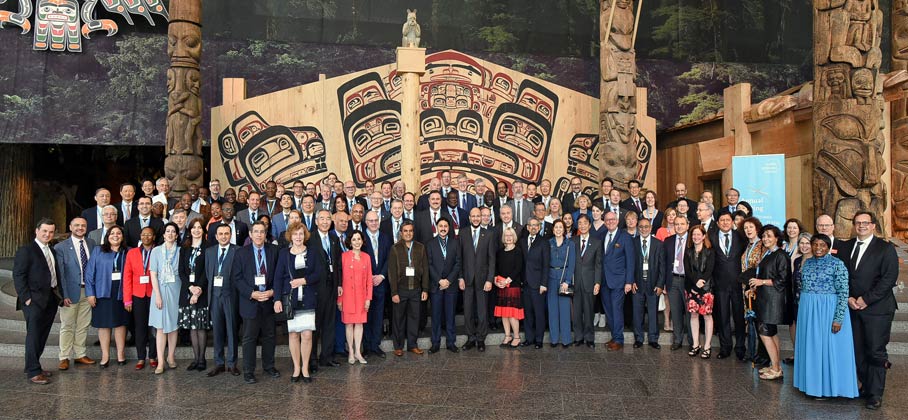 Recently, according to UNESCO global investment in research has reached a global record high of more than $1.7 trillion dollars. Members of the Global Research Council manage most of these funds in support to their mission of improving communication and cooperation among funding agencies, and exploring mechanisms that support the global science enterprise and the worldwide research community.
These global leaders used the annual meeting to address two important themes: the dynamic interplay between fundamental research and innovation, and building capacity and connectivity among granting agencies worldwide. Their discussion resulted in two Statements of Principles (to be posted in the coming days) that were endorsed by participants during the meeting. These statements will be followed by a set of concrete actions.
Quotes
"In the year of Canada's 150th birthday, it's an honour to co-host the 6th Annual Meeting of the Global Research Council. Our government is focused on promoting Canadian researchers around the world, and on attracting top talent to Canada. Through the GRC, we are opening new avenues for progress on the international stage."
The Honourable Kirsty Duncan
Minister of Science
"The Global Research Council represents a very important gathering and, in the midst of a rapidly changing geopolitical context, is needed now more than ever."
Dr. B. Mario Pinto
President, Natural Sciences and Engineering Research Council of Canada
"Co-hosting the GRC provides us with a unique opportunity to showcase what the institution has been doing to promote STI in Peru. The GRC plays a key role in the global research landscape. Its members are at the forefront of scientific discovery and innovation, and the organization helps improve dialogue among science and engineering funding agencies."
Dr. Juan Martín Rodríguez
Member of the Governing Board, CONCYTEC
"Research councils have a vital role to play in supporting sound science. The GRC provides an important forum to learn from each other and to foster collaboration. This gathering holds both the opportunity and the challenge of determining how we, as a global community of research councils, will move forward together. For IDRC, building capacity is at the core of what we do and we are committed to supporting global collaboration and strengthening national support for science in low- and middle-income countries. It is a pleasure to partner with this year's co-hosts, NSERC and CONCYTEC."
Dr. Jean Lebel
President, International Development Research Centre
About NSERC
The Natural Sciences and Engineering Research Council (http://www.nserc-crsng.gc.ca/index_eng.asp) invests over $1 billion each year in natural sciences and engineering research in Canada. Our investments deliver discoveries – valuable world firsts in knowledge claimed by a brain trust of over 11,000 professors. Our investments enable partnerships and collaborations that connect industry with discoveries and the people behind them. Researcher-industry partnerships established by NSERC help inform R&D, solve scale-up challenges, and reduce the risks of developing high-potential technology.
NSERC also provides scholarships and hands-on training experience for more than 30,000 post-secondary students and postdoctoral fellows. These young researchers will be the next generation of science and engineering leaders in Canada.
About CONCYTEC
Consejo Nacional de Ciencia, Tecnología e Innovación Tecnológica (https://portal.concytec.gob.pe) leads Peru's national system of science, technology and innovation. It brings together academia and government research institutes, among other bodies. CONCYTEC has experience hosting GRC regional meetings for the Americas, and provides inclusive perspectives from low and medium income countries.
About IDRC
The International Development Research Centre of Canada (https://www.idrc.ca) is a Canadian Crown Corporation that provides its expertise in investing in knowledge, innovation, and solutions for improving lives in developing countries. IDRC has collaborated with research funding organizations in Asia, Africa and the Middle East, as well as Latin America and the Caribbean in the development of core capabilities and analysis competencies to inform their granting operations.