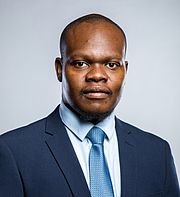 Dr Fulufhelo Nelwamondo - Chief Executive Officer
National Research Foundation (NRF), South Africa
Dr Fulufhelo Nelwamondo is the Chief Executive Officer of the NRF since 1 April 2021. Prior to joining the NRF, he was the Executive Manager for the Council for Scientific and Industrial Research (CSIR) Cluster: Next Generation Enterprises and Institutions.
Dr Nelwamondo is a seasoned executive with a proven track record in strategy, operational planning and successful implementation. He has worked within the National System of Innovation with multiple stakeholders in the public and private sectors and led complex organisational outfits in the forefront of research, development and innovation, in areas such as Artificial Intelligence, Communication Technologies and Data Science, that underpins the Fourth Industrial Revolution. He has a proven track record in spearheading innovation-driven research portfolios that demonstrated huge financial returns and societal impact.
Dr Nelwamondo serves in various leadership roles, nationally and internationally including Chairman and Panel Member of several NRF committees such as the Flagship Programme; the Centres of Excellence (CoE) programme; and the South African Research Chairs Initiative (SARChI).
Dr Nelwamondo holds a PhD in Electrical Engineering in Computational Intelligence from the University of the Witwatersrand. In 2008, he advanced his research endeavours as a Postdoctoral Fellow at the Graduate School of Arts and Sciences at Harvard University and was the youngest South African to receive the Harvard-South Africa Fellowship. In 2017, he was awarded the Order of Mapungubwe in Silver, the highest civilian honour bestowed by the President of the Republic of South Africa, for his contribution to the field of science, particularly electrical engineering.