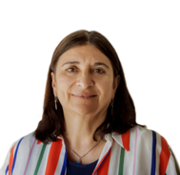 Dr Ana María Franchi – President
CONICET (Consejo Nacional de Investigaciones Científicas y Técnica), Argentina
Dr Franchi became president of CONICET in December 2019. She is a senior researcher at CONICET and Director of the Centre for Pharmacological and Botanical Studies (Centro de Estudios Farmacológicos y Botánicos, CEFYBO, CONICET-UBA) since 2014.
Dr Franchi is the president of the 'Argentine Network of Gender, Science and Technoloy' (RAGCyT in Spanish) and member of the group Argentine Science and Technology (CyTA). She was the president of the Argentine Society of Clinical Research, coordinator of the 'Technical Committee of Evaluation of the Program of Quality of Life and Economic and Social Development and of the Committee of Medical Sciences II of the FONCYT of the Ministry of Science, Technology and Innovation. She had worked as a member of the National Evaluation Committee of Health, Science and Technology (SACyT) of the Ministry of Health of Argentina.
Dr Franchi graduated in Chemistry and has a PhD in Chemical Sciences from the Facultad de Ciencias Exactas y Naturales of the University of Buenos Aires (UBA). Her research subject is Reproductive Health focused on physiopathology of pregnancy and birth. She specialized in the situation of women in Science and Technology institutions.