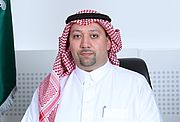 H.E Dr Munir M. Eldesouki - President
King Abdulaziz City for Science and Technology (KACST), Saudi Arabia
Is currently the President of King Abdulaziz City for Science and Technology (KACST), and the Advisor to the Chairman of the Research Development and Innovation Authority (RDIA) heading the foundation team for the establishment of the RDIA.
His 19+ years of experience spans the spheres of R&D, Innovation, ICT and Digitalization, where he played influential roles at different levels as seasoned researcher, inventor and leader setting national strategies, driving execution and shaping R&D, innovation and ICT & Digital ecosystems of Saudi Arabia.
Previously, H.E. Dr. Eldesouki held various C-level positions in the Saudi government. Where he was the Assistant Minister of ICT, the Deputy Minister of Planning and Development at Ministry of Communications and Information Technology (MCIT), as well as the Senior Advisor and Chief of Staff to H.E. Ahmed Al-Khateeb supporting in establishing new government military entities and vision 2030 programs.
In addition, H.E. Dr. Eldesouki had led several research institutes and programs with international collaborators from the US, UK, Switzerland, Canada, China, South Africa, Belarus and others from both private and public sectors. He also managed a number of national institutes and centers related to innovation, material science, and nanotechnology. Additionally he held multiple academic and fellowship positions at several universities in the USA and Canada.
He has also headed or was a member of many national-level committees such as the Executive Committee for the Digital Collaboration Organization, the Digital Economy Task Force under the Saudi G20 2020 Presidency and the 2021 Italian Presidency, and the Governing Board for Global Research Council. In addition to his membership in other national boards including Chairman of the Board of Trustees of Custodian of the Two Holy Mosques Award to honor inventors and talented individuals, Chairman for the Board of Trustees of Almari Award for Scientific Innovation, Chairman of the Board of Directors for the Center for the Fourth Industrial Revolution in KSA in affiliation with the WEF, and member of the following boards of directors: the Saudi Space Commission, the King Abdulaziz & his Companions Foundation for Giftedness & Creativity, the King Salman Science Oasis, the General Organization for Military Industries, the General Authority for Survey and Geospatial Information, and the Saudi Business Center, and the Saudi Center for Competitiveness.
In recognition of his scientific excellence, he received several scholarships and awards such as the King Abdulaziz Order of Merit Excellence Medal of the First Class, the King's Prize for Inventors, the Natural Science and Engineering Research Council of Canada scholarship, the Xerox Center for Engineering Entrepreneurship grant, and the Canadian Microelectronics Corporation grant.
H.E. Dr. Eldesouki holds a bachelor degree in Electrical Engineering from KFUPM in Saudi Arabia and an M.Eng. degree in Engineering Entrepreneurship and Innovation, in addition to a M.A.Sc. and a PhD degree in Electrical & Computer Engineering from McMaster University in Canada.