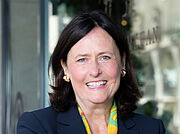 Professor Katja Becker – President
Deutsche Forschungsgemeinschaft (DFG), Germany
Professor Katja Becker is the President of the Deutsche Forschungsgemeinschaft (DFG, German Research Foundation). She studied medicine at Heidelberg University, where she also obtained her doctoral degree and habilitation. After a position at the Center for Infectious Diseases, Würzburg University, she accepted a chair in Biochemistry and Molecular Biology at Giessen University. Education and research led her to Africa, Australia, Switzerland, the UK and the US. Her research interests focus on cellular redox metabolism as a drug target in malaria parasites and cancer cells.
Until 2019 she was the coordinator of the DFG Priority Programme 1710, which examines the thiol-based regulation of enzymes, and spokesperson of the LOEWE Center DRUID, which aims to develop novel drugs, vaccines and diagnostics against neglected tropical diseases. Katja Becker is active in multiple scientific advisory boards and served as vice president at Giessen University. From 2014 to 2019, she was vice president of the DFG.
Her work has been honoured with the Ludolf Krehl Prize, the Carus Medal, the Rudolf Leuckart Medal and membership in the German National Academy of Sciences Leopoldina.